Nursing Program Outcomes
Student Learning Outcomes
Upon completion of our Associate Degree Nursing Program, the graduate is eligible for licensure as a registered nurse and can assume the role of a registered nurse. Upon completion of the program the graduate will also be able to perform the following:
Provide safe, culturally sensitive care to clients across the life span utilizing the nursing process substantiated by evidence-based practice guidelines.
Collaborate with the client to develop, implement, evaluate, and modify client's care plan based on changing client needs, and health care practices and guidelines.
Utilize the science of informatics for current and appropriate practice guidelines to meet the client's physical, emotional, and spiritual health care needs while ensuring the client's individual rights to privacy and quality health care in an ever changing technological environment.
Coordinate with the client and inter-professional team members to facilitate the client's efforts to self-determination to meet basic needs and achieve desired health outcomes.
Utilize leadership, management, and communication skills to advocate for client's rights to quality health care regardless of race, gender, cultural background or socio-economic status.
Demonstrate accountability for personal and professional growth and nursing practice within the legal and ethical framework of nursing practice standards.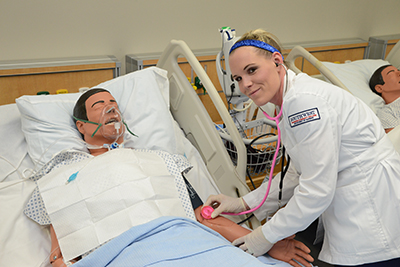 Program Outcomes
Sixty percent of entering nursing students will graduate with an Associate of Applied Science Degree in Nursing.
Eighty-five percent of nursing graduates will pass the National Council Licensing Examination for Registered Nurses (NCLEX-RN) examination on the first attempt.
Ninety percent of nursing graduates will be employed in nursing within six months of licensure.
Seventy-five percent of employers surveyed will express satisfaction with Southwest Nursing graduates.
Nursing Program Data
| Year | Graduation Rate | Employment Rate | Responding Employers Satisfied with Graduates | NCLEX Pass Rate |
| --- | --- | --- | --- | --- |
| 2017 | 58 percent | Not available | Not available | 88 percent |
| 2016 | 43.3 percent | 97 percent | Not available | 75 percent |
| 2015 | 45 percent | 97 percent | 100 percent | 90 percent |
| 2014 | 31.7 percent | 95 percent | 100 percent | 91 percent |
| 2013 | 43.5 percent | 100 percent | 100 percent | 97 percent |