Access to Pathways Autism Camp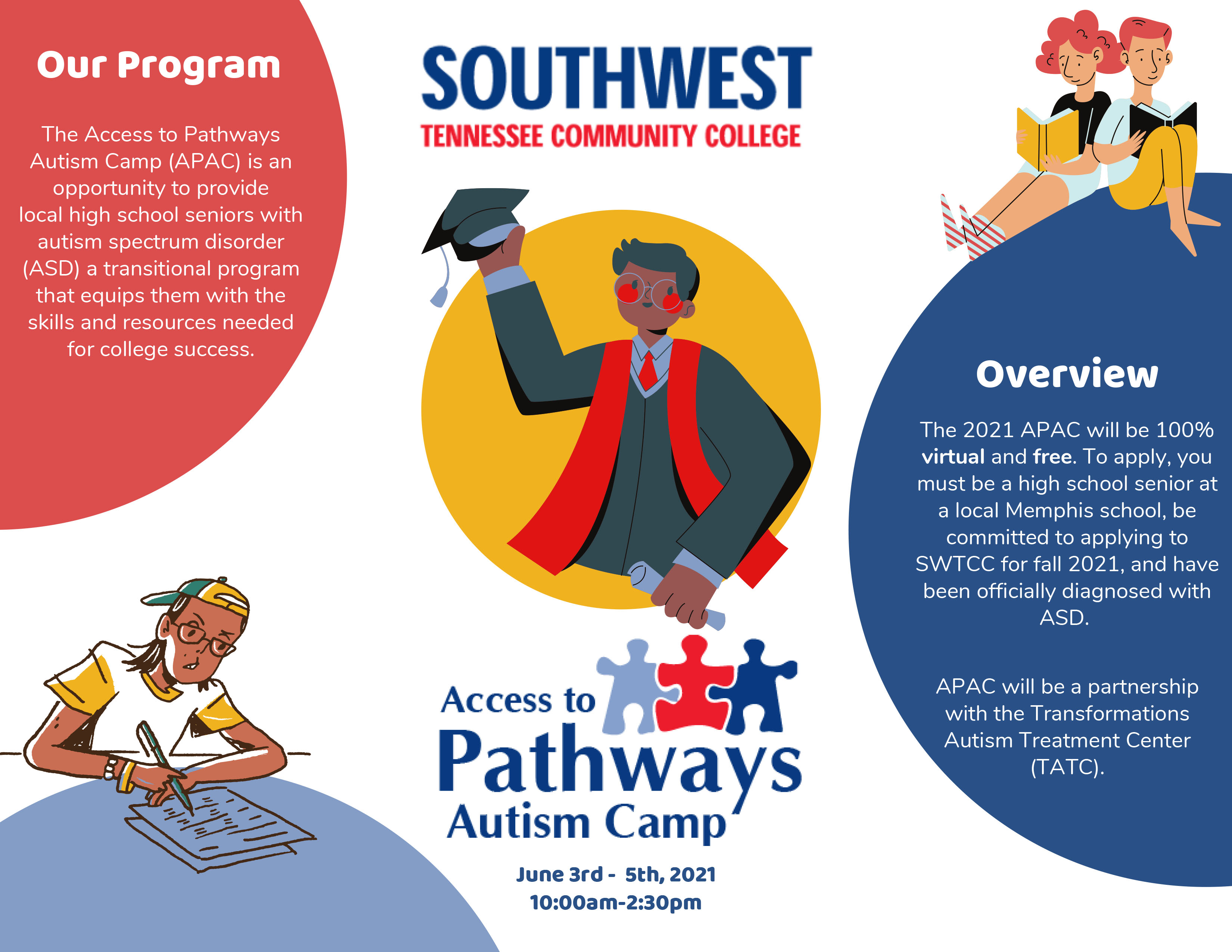 Southwest's Access to Pathways Autism Camp (APAC) is a virtual summer day camp and transitional program designed to equip area high school seniors with Autism Spectrum Disorder (ASD) with the skills and resources they need for postsecondary success. The 3-day program focuses on social skills development and career training to prepare students for college, the workforce, and beyond.
Camp Overview
APAC is coordinated in partnership with Magnolia Special Education Consulting (MSEC). MSEC provides the curriculum, trainings and staff for this virtual camp. Participants will engage in social activities designed to help them build confidence and prepare for college life.
Eligibility
APAC is targeted to six (6) area graduating high school seniors with ASD who are interested in attending Southwest. Slots are limited to six (6) participants to maximize engagement and skills development.
Cost
There are no fees or costs for students to apply and attend APAC.
How to Apply
To apply, students must complete the APAC application. Each applicant must submit the contact information for at least one person who recommends them for the camp. Deadline to apply is May 12, 2021.
Camp Dates
The APAC camp is June 3 - 5, 2021. Camp hours are 10 a.m. - 2 p.m., including a one-hour break.
Camp Location
The 2021 APAC is a virtual event held on Microsoft Teams. Internet connection is required. Participants will receive an event link.
Contact
For more information, contact Center for Access Program Coordinator Amanda Prewitt at 901-333-5523 or aprewitt5@southwest.tn.edu or Director Courtney Gipson at 901-333-4223 or cgipson2@southwest.tn.edu.
2021 Camp Schedule (subject to change)
Thursday, June 3, 2021
10:00 a.m.
Welcome, Orientation Overview, Introductions
10:30 a.m.
Ice Breaker Activity
11:00 a.m.
Virtual Campus Tour
11:30 a.m.
Lunch Break
12:30 p.m.
Discuss Majors and Admission Process
1:30 p.m.
Closing Activity
2:00 p.m.
End - Prepare for Next Day
Friday, June 4, 2021
10:00 a.m.
Check In, Ice Breaker Activity, Schedule Overview
10:30 a.m.
Meet a Professor
11:30 a.m.
Lunch Break
12:30 a.m.
Game
1:00 p.m.
Interview Skills
2:00 p.m.
Closing Activity
2:30 p.m.
End
Saturday, June 5, 2021
10:00 a.m.
Check In, Ice Breaker Activity (Team Building)
10:30 a.m.
Science Box Activity
11:30 a.m.
Etiquette and Social Skills Activity
12:30 p.m.
Lunch Break
1:30 p.m.
Center for Access Presentation (Parents and Students)
1:45 p.m.
Current Center for Access Students Share College Experiences
2:00 p.m.
Q&A Session for Students and Parents
2:30 p.m.
Certificates and Congratulations